Mobile Flip Books Photo Booth Studio Hire and Rental
ARE YOU READY FOR YOUR 7 SECONDS OF FAME ?
If you are wanting something entertaining and memorable at your upcoming event but don't want to use a traditional photo booth, we have the solution for you!
Mobile flipbooks photo booth hire is the newest and most innovative party favors in UK today. After setting up our equipment in approx 10'x10' space at your event, we film you and your guests having a fabulous time together with humorous props that we provide. Your seven second clip is then printed, cut, and stapled together with a cover customized specifically for your event in less than 90 seconds!
Flip Book Photo Booths create the excitement as your guests interact with each other and enjoy watching the flip books being filmed. Koolflipbooks are unique and add energy to such a wide variety of events.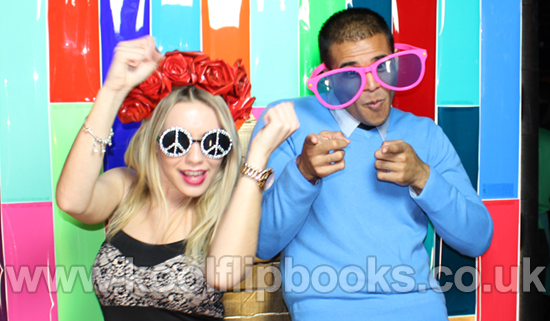 QUOTE ''Its like a photobooth on STEROIDS !!''
Stunning Contemporary Flip Book Mobile Studio Hire We are regulary told our fully customizable stainless steel and Aluminium Mobile Studio is the best on the market today, rather than the alternatives available elsewhere.
Colour B/W Greenscreen Backgrounds available You can choose however you want your photo flip books to look and to fit in with your theme.
High Quality Flip Books We do not use a webcam or low res camera, we only use high end professional cameras and printing equipment. EVERY PAGE of EVERY FLIPBOOK is printed on glossy professional photographic paper and NOT 80 GSM photocopy paper.
Unlimited flip books Throughout your event we actively encourage your guests to return as often as they wish. We are actively producing flip books for the duration of your event.
Free copies of every page printed At the end of the evening you will be presented with a digital copy of every page and every frame that has been recorded on the night
Props We supply more high end props than you can shake a flip book at. Great for keeping the guests returning time after time.
In House Graphic Design To take care of all your personalization needs. Be it on the flip books or a full studio exterior personalization project, we are available for your needs.
Attention to Detail From start to finish. Having a background within F1 Motorsport this is probably understandable and would go some way to explaining why KoolFlipBooks Mobile Photobooth Studio is one of the leading entertainment companies in the UK today.
Our Staff Our staff are just as, if not more important than the equipment you choose. Our staff make your occasion and are a fundamental ingredient within our packages.

Just some of the areas throughout the UK we cover with our Mobile Flip Books Photo Booth are North London, Central London Flip Books Hire, West London, East London, South East London, South West London Flip Books rental, Cambridge and Peterborough in Cambridgeshire, Bedford and Luton in Bedfordshire, Milton Keynes and Aylesbury in Buckinghamshire, Hertford and Stevenage in Hertfordshire, Harlow and Stansted in Essex, Bury St Edmunds and Thetford in Suffolk,Flip Book Photo Booth Norwich and Yarmouth in East Anglia, Dartford and Maidenhead in Kent and Slough in Berkshire, Guilford and Woking in Surrey, Canterbury in Kent, Heathrow Airport, Northampton and Kettering in Northamptonshire, Coventry and Birmingham in the Midlands and Mobile Flip Books in Oxford in Oxfordshire.