Parties
Party Flipbook Studio Hire and Rental
Available for Birthdays, Weddings, Christenings, University & Military Balls, School Proms, Fetes, Bar & Bat Mitzvah's, Pub open days, Charity Events, Wrap & After show parties or just for the pure Fun of it !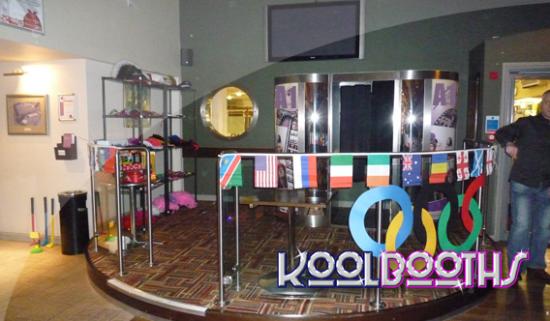 Trying not to be biased here, but... our Mobile Flip Book Studio really is the ULTIMATE in party entertainment.
Our Flip Book technicians are permanently on hand with our 'bursting at the seems' high end, funky prop box to assist your guests in creating fun right from the start.
At the end of your event, we will present you with copy of ALL of the videos on a USB stick, so you can re-live the moments over and over again. and your guests will be able to download any of the images from our password protected gallery within 48 hours.
The days of just having a DJ and let the guests make their own entertainment are long gone. If you are planning a party, make it a memorable one. And what is more memorable than a Flip Book Studio !
With a stunning designer studio that can be personalised to mark the occasion, it is guaranteed to be a huge hit ! And with all of your guests that have come to celebrate with you, taking home a memento of your event which they will keep forever, we live up to our reputation as one of the leading high end entertainment companies in the UK.
It's been described as the hippest interactive party favor out there! Your guests will think of your event every time they flip through their custom flip book or when they show it to their friends and family! Both young and old, guests adore their keepsake and are further enlivened by their experience.
Book a Kool Flip Book Mobile Studio and be guaranteed of a party to remember!
Should you require more details or to book, please call 01480 390752